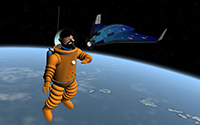 HADDOCK (UMmu version)
(Here is the French Version)
But an
English version
is available on OrbitHangar !..
Here is in UMmu version the second character from the series included with my add-on "Tintin sur la Lune" (Tintin on the Moon).
Mandatory add-ons :
-
UCGO 3.0 + UMmu 3.0
from DanSteph
Recommended add-on :
-
SPACECRAFT-3
from Vinka
-
Tintin sur la Lune
(Tintin on the Moon)
-
TINTIN (UMmu version)
Although this character is suited rather with the "Tintin on the Moon" add-on
you can also use it like any other "standard" UMmu
with your vessels (but only if it is UMmu compatible) and with all UCGO vehicles.
After install, how to "create" a HADDOCK UMmu :
- Select the UMmu you desire and press [Alt]+[R] keys.
- in the fist window type the name you wish
- in the next window type how old is your character
- in the last window type " HAD "
Thats'it !!!
Of course this add-on installs some new scenarios.
It should be noted that all of these scenarios are scenarios only for "test" ...
You can find these scenarios in 2 folders :
- \\UMmu Tintin
- \\Tintin on the Moon\\UMmu version
Included:
a new animation with Haddock descending from the Lunar Rocket's airlock !! Enjoy it !!!