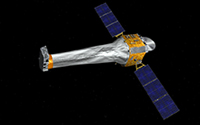 CHANDRA-X telescope and I.U.S
(French Version).
Be patient : an English version will be available soon...
CHANDRA-X is an X-ray space telescope developed by the NASA. It was launched in 1999 with the Space Shuttle Columbia during STS-93 mission.
CHANDRA is one of the two most efficient X-ray observatories put into the space.
In 2014, 15 years after its launch, CHANDRA is still operational.
The Inertial Upper Stage or IUS is an upper stage rocket that was developed for the requirements of satellite launchings with the American Space Shuttle. It consists of two stages using a solid propergol .
It has been used on 15 occasions with the Shuttle from 1983 to 1999 for launching many satellites and THE Space Telescope Chandra-X.
This add-on includes :
- Chandra-X satellite
- I.U.S. (or Inertial Upper Stage)
- Shuttle cargo bay's supports for Chandra X
Installation :
Simply unzip the zip file into the root folder of your Orbiter.
(Do not forget to check "use folder names")
Some additional add-ons may be installed. Please, reed the documentation for that.
-
Shuttle_Fleet v4.8-R2
by David 413 (for some scenarios)
-
Spacecraft3
by Vinka (included with this add-on)
-
UMmu 3.0
by DanSteph (optional but recommended with the david413's Shuttle)
Thank you to them !
Please read all the documentation that is very interesting and full of lovely images.
There is also a "flight plan" to allow you to accomplish the mission quite easily.
We welcome your comments, criticisms, congratulations, karmas and lashes.
JacquesMomo and Pappy2.